Claudius Linossier
1893-1953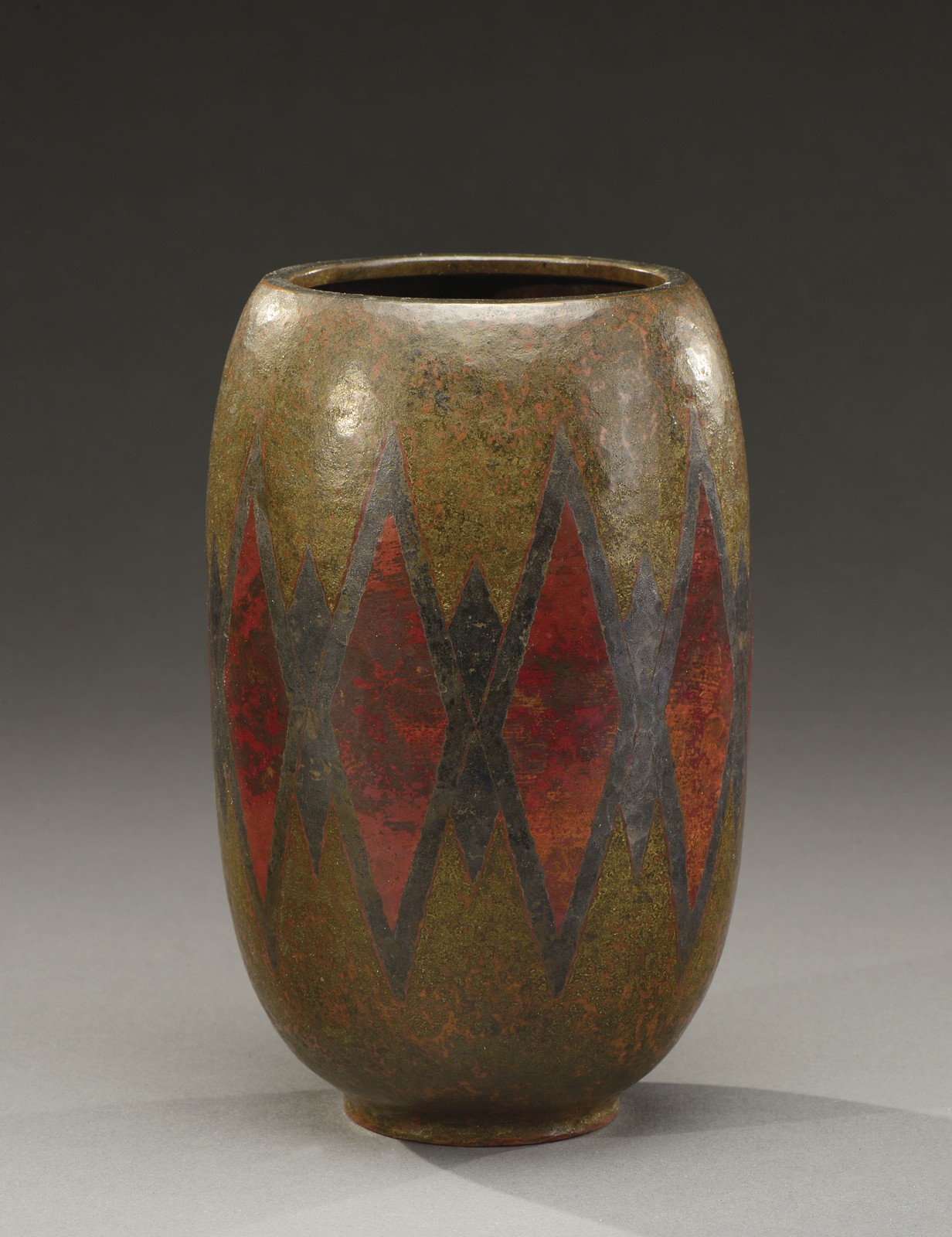 Claudius Linossier was a highly important French Art Deco metal artist who chose to work in the very old and very difficult technique of dinanderie, which involved decorating hand-raised copper vessels with specially made metal oxides that were hammered into the surface, and, when heated, produced subtle and beautiful colors. His works are rigorously geometric in design and decoration.
Linossier was born in Lyon. In his youth he worked with a variety of Lyonnaise artisans, including a locksmith and a goldsmith who created religious objects. He also studied at the Petit Collège near the Gadagne Museum. In 1911 he tried working in Paris but was not successful. He served in the French armed forces for six years before, during and immediately after World War I. After his discharge, in 1919, he returned to Paris, where he visited a number of museums and was inspired by the decorative arts of ancient Greece.
Linossier apprenticed to a silversmith named Berger Nesme, and later to Cardeilhac. He interned in the workshop of Jean Dunand, the undisputed maser of dinanderie. From 1920 to 1950 he maintained his own workshop in Lyon. He began exhibiting in 1920, and in 1921 he exhibited at The Salon des Artistes Dècorateurs. There were additional exhibitions between 1923 and 1937, including in the gallery of Art Deco master Jacques-Emile Ruhlmann. In 1935, he made two bas-reliefs for the Villefranche-sur-Saône chamber of commerce, titled Dionysos and Athena. In 1937 he was one of the recipients of a Grand Prize at the Universal Exhibition. He was also awarded the Florence Blumenthal Prize, which was created to identify and support young French artists.
Linossier's productivity fell off during World War II, in part because of a lack of materials. He died in Lyon in 1953. In his lifetime, Linossier is know to have created more than 3,000 objects.
Linossier's work has been show in New York, Boston Chicago, Athens, Bucharest, Milan, Prague, Montreal, and Sydney.
The technique of dinanderie originated in the 14th century and is named for the town of Dinant, Belgium, where it was first practiced. Dinanderie involves shaping sheets of metal -- generally copper, brass, silver or tin – using a variety of methods, including rolling, bending and planing. The pieces are then assembled and decorated by embossing or engraving. As a consequence of the methods used in dinanderie no two objects created by this technique are the same. Linossier encrusted some of his pieces with silver, which was an unusual finishing technique.
Related items: