'Electric Paris' Lights Up The Bruce Museum
— 6/2/2016
'Electric Paris' Lights Up
The Bruce Museum
May 24, 2016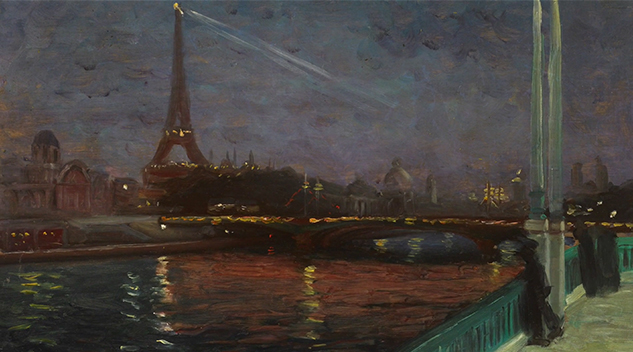 GREENWICH, CONN. — Margarita Karasoulas, curator at The Bruce Museum, introduces her new exhibition entitled "Electric Paris."
A
Organized thematically into four sections — Nocturnes, Lamplit Interiors, Street Light, In and Out of the Spotlight– the exhibit explores the ways in which artists responded to older oil and gas lamps and the newer electric lighting that began to supplant them around the turn of the Twentieth Century. While artificially illuminated public spaces and private interiors appear frequently in works of art and popular depictions of contemporary life during this period, the different types of lighting that animate such spaces, and their distinctive visual properties, have not been considered in detail.
A
The exhibition will feature approximately 50 works, including paintings, prints, photographs and drawings by artists such as Edgar Degas, Mary Cassatt, Pierre Bonnard, Édouard Vuillard, Henri de Toulouse-Lautrec, Charles Marville, Jean Béraud, James Tissot, Childe Hassam, Charles Courtney Curran, Alfred Maurer and Maurice Prendergast, among others.
A
"Electric Paris" is on view through September 4 and is presented with a complementary exhibition entitled "Electricity" in the Science Gallery of the museum. For more information, www.brucemuseum.org or 203-869-0376.
<< Back To News